Hey there, beloveds! Thanks for joining me for this 20th round of #SevenGratitudes, a weekly practice of thanksgiving and chicanery. I hope you enjoy these next few ramblings and that they might inspire your own moment of defiant and definite thanksgiving.
In a world where more is more, gratitude invites us to see the good in where we are, what we have, and, even, who we are—and this is something like the way God sees us.
Praying you feel empowered to practice seeing your corner of the world through God's eyes today!
This week I am grateful…
1
To be moving forward with the moving.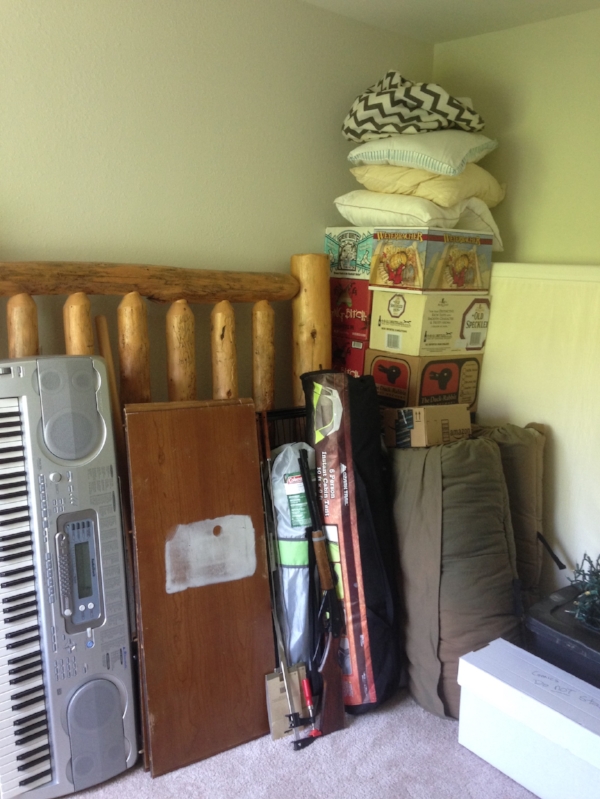 The boxes are piling up around here, people, and that is a beautiful sight to see! I have shared before about my husband Aaron's new job as a Pastoral Resident at Wilshire Baptist Church in Dallas, Texas. Well, the first leg of our transition from NC to TX is underway; Aaron will move all of our earthly belongings out to that big ol' state in just a month's time. I am packing this week, however, because:
I am excited(!!!!!!!!!!!!!!!!).
My summer term begins next week, so best get to work while I am free to do so!
And I have this wild idea that I want to be COMPLETELY ready to move when the time comes.
It feels good to be moving toward moving, to take solid steps toward the next leg of this wild adventure God's got us on. I am itching to meet the folks who have opened their doors to us in Texas.
I am thankful to be on the move.
2
For the sneeze.
This may be TMI, but, gracious, I have never been more thankful for the fact that I can sneeze.
Maybe it has been dust stirred up from packing boxes or something recently in bloom outside, but I got something up my nose this week that has been giving me a fit! So tickly and sniffle-y, but not a full-out cold, thank goodness. I am feeling much better now, but do you know that feeling when you think you have to sneeze? Tickles like a bumblebee right between your eyes? Now, can you imagine how horrible it would be if a sneeze didn't follow and flush that buzzing away?!
Thank God for the outrageous ability to sneeze!
Our bodies are so wondrous and funny. I am thankful for the relief and productivity (eww?) of the sneeze.
On the topic of noses...here's a #QuickSwith about hankies!
3
For these two songs.
They popped into my head this week for whatever reason and I have enjoyed them over and over again—
They taste like summer, I think.
4
That I got to witness an ordination. For the call.
One of my colleagues, Monica Banks, was ordained this week as a minister of Christ's Church. She is a Disciples of Christ minister who devised and developed (WHILE A FULL-TIME SEMINARY STUDENT) a new mobile food pantry, called New Communion, which you may run into here in Winston-Salem. Monica wants to feed people and I saw her ordained to do just that this week. I am thankful and overwhelmed with the grace of vocation—with the call of God.
See New Communion on Facebook.
5
For the Frugalwoods; for their inspiring story.
I have totally mentioned the Frugalwoods before, and imma do it again. They are two 33-year-olds who beat debt and bought a 66-acre homestead in the northeast. I have been following their financial independence and simple living blog for a few years now and have learned so much!
Their weekly updates and insights about frugality point me, actually, to the alternative Way of Christ—to encountering enough and living into the abundance of God's good creation. Check them out and tell me if you see what I am seeing.
Three of my favorite Frugalwoods posts:
6
For an easy evening of hot dogs and friendship.
Dear friends came over last night with scuppernong wine, hot dogs, and smiling hearts. It is such a blessing to be able to simply enjoy folk, you know? We did nothing but eat and talk. And it was good. I am grateful for the surprising grace of intersecting lives and freely given—freely entered—moments of communion.
7
For the ability to just up and do something I wanna do.
Perhaps it is the little culture shock of summertime and the freedom of finished classes, but I marvel at the fact that humans can do anything. There may be a limit to our creativity possibility, but I do not think it is within view. I have enjoyed the fact that I can think up an activity and then go do it this week.
I have always been a dreamer, but I have at times remained in dream-phase too long. Something made me think I did not think I had the resources or the worth to actually do what I wanted to do. Dreams were either too expensive or too time-intensive or whathaveyou.
Well, you know what? Good ideas usually do cost in time and resource, but what else are we supposed to do with our days? Sit around and watch TV? Twiddle our thumbs and eat fast/easy food?
I do not want to do that. I would rather make the sacrifices necessary to learn new skills, experience differences, and do hard things—for this is "the toil for which we toil under the sun."
So…I am currently picking up my contra dance hobby, conjuring a plan to build a chuck box for the back of our car (hello easy roadside picnics!), pulling out my guitar more and more, and otherwise keeping my eyes peeled for the newness and wonder of this Way. Thanks be to God!
What have you got brewing?
Seven Gratitudes Link-Up
If you would like to join in on this weekly practice of gratitude and chicanery, grab yourself a button and link up with us here every Friday morning of 2017.
HOW TO:
Write a listicle about your seven gratitudes each week.
Publish your piece with a link back to my blogpost on Friday mornings.
And then link up with the form at the bottom of the page.
Be sure to visit with the other bloggers in the party--THEY ARE TOO WONDERFUL TO MISS!
Happy trails, friends. Grateful for you.
L